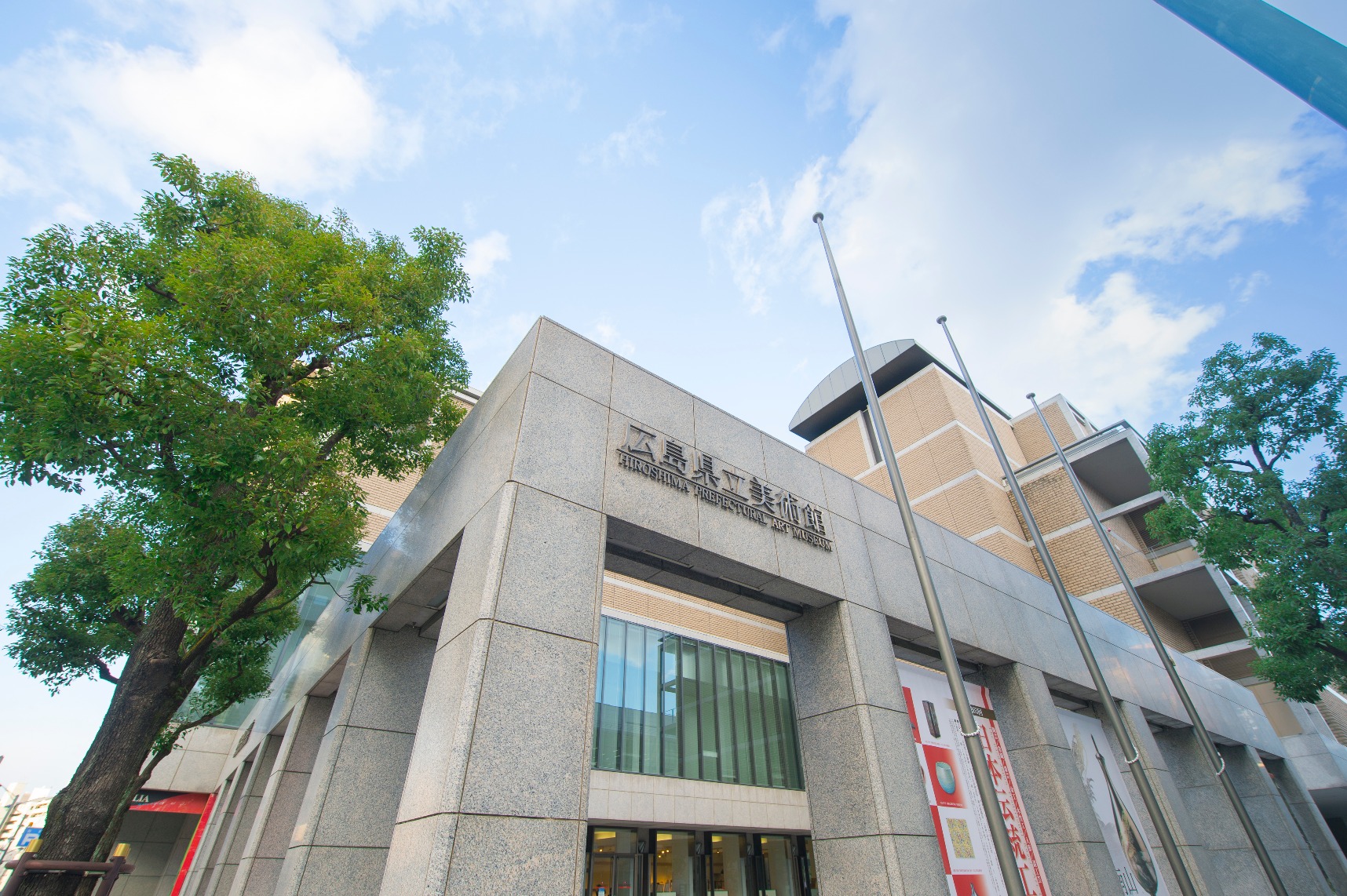 Hiroshima Prefectural Art Museum
Located in the heart of Hiroshima City, this museum sits next to Shukkeien Gardens, known throughout Japan for its rich greenery and scenic beauty. From the lobby and lounge of the museum, visitors can enjoy the colors and botanicals of the seasons as they play out in the historical garden created for the leader of the Asano Clan, who once ruled Hiroshima.

The art museum is home to 5,000 different works of art divided into three categories: Works with Ties to Hiroshima, Craft Arts from Japan and Asia, and Works from the 1920s and 1930s.

The Works with Ties to Hiroshima Collection includes the Imari Porcelain Flower Bowl and Itsukushima Folding Screen (both designated as Important Cultural Properties), as well as works by artists with ties to Hiroshima, such as Aimitsu, Katsuzō Entsuba, Ikuo Hirayama, and more.

The Craft Arts from Japan and Asia Collection contains works from representative artists Kanjirō Kawai and Shoji Hamada, as well as pieces of metalwork and dyed fabric art from Central Asia.

Finally, the Works from the 1920s and 1930s Collection houses pieces such as Salvador Dali's "Dream of Venus" and Isamu Noguchi's "Tsuisō (Reminiscences)".

The museum holds four different permanent exhibits per year, showcasing the best of their collections. Not too familiar with art? Don't worry, their friendly volunteer guides are standing by to give visitors a better understanding of the pieces displayed in exhibit.

In addition to the four main exhibits held each year, roughly six special exhibits are also held every year, often holding lectures, concerts, and other events alongside these exhibits.
Information
Hiroshima Prefectural Art Museum
Address

2-22 Kaminobori-cho, Naka-ku, Hiroshima

Tel

082-221-6246

Time

9 am to 5 pm
(Open until 7 pm on Fridays from 10/31/2018 to 3/31/2019)

Last admission is 30 minutes before closing time.

Access

Streetcar: Take the 1, 2, or 6 streetcar line headed for Hiroshima Port (Hiroshima-kō // 広島港) Miyajima-guchi (宮島口), or for Eba (江波), respectively, and change cars at Hatchobori (八丁堀) to the 9 streetcar line bound for Hakushima (白島); get off at Shukkeien-mae (縮景園前). It's about a one minute walk from there.
Bus: Take the Maple Loop Sightseeing Bus to the Hiroshima Prefectural Art Museum bus stop.

Fee

Admission prices for the permanent collection
Adults: 510 yen
University students: 310 yen
High school students and younger: Free

Admission prices for Special Exhibits vary.
Visitors who purchase Special Exhibit tickets may also view our Permanent Collection.

Group discounts are also available for groups of 20 or more! Inquire directly for details.

Holiday

Mondays, New Year Holidays
(Museum will remain open during special exhibitions and national holidays)

Barrier Free

Barrier-free and fully equipped with handicapped parking and elevators, automatic doors, braille blocks, nursing rooms, and barrier-free restrooms. Wheelchairs are also available for use free of charge.

MAP

Tap the name of the facility on Google Map and tap "View on Google Maps" to launch the application.
---