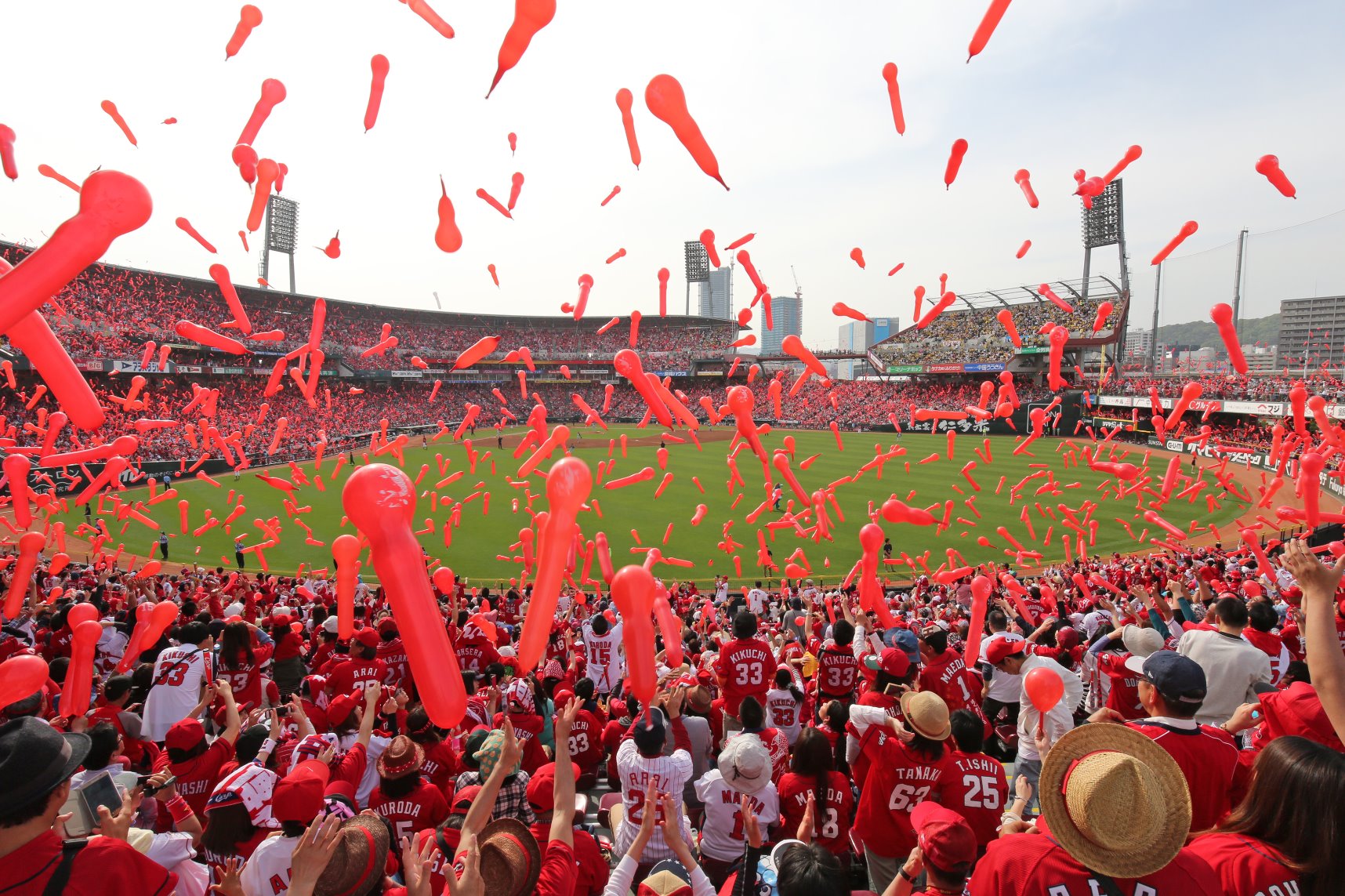 MAZDA Zoom-Zoom Stadium Hiroshima
Hiroshima's renowned baseball team has its roots in the immediate postwar years, when, in 1949, a group of local residents and businesses decided to establish a professional team and fund its playing field as part of the process of recovery and reconstruction. The team was named the Hiroshima Carp partly for the abundant carp inhabiting the Ota River, which runs through the city, and partly for Hiroshima Castle, nicknamed "Carp Castle." Unfortunately, the Carp lacked a well-funded sponsor, which made acquiring new players difficult, and the team came in last place in the league in 1950 and 1951.

There was talk of disbanding the team, or merging it with another, but these prospects did not go over well with Hiroshima's citizens, who had taken the Carp to heart despite their dire performance. Apparently driven to raise their game, the Carp performed slightly better in 1952, which enabled them to survive. Hiroshima Municipal Stadium, completed in 1957, gave the Carp a new home, and in 1968 they finally gained a corporate sponsor: Toyo Kogyo, the company that eventually evolved into automobile maker Mazda. Mazda's association with the Carp continues to this day: along with the Masuda family, which founded the company, it is one of the team's principal shareholders.

The year 1975 saw the Carp become the first Japanese professional baseball team to hire a foreign manager, American Joe Lutz. That same year, the team won its first league championship, and in 1978 it made Japanese baseball history by becoming the first team ever to hit over 200 home runs in a single season. The Carp continued to perform well until the early 1990s, when things took a tumble for a couple of decades. The city's love for the Carp, however, is unwavering, regardless of whether they are record-breaking champions or embattled underdogs. Things are now looking up again: in 2016, the team won its first league pennant since 1991, and followed up on that triumph with championships in 2017 and 2018.

Mazda Zoom-Zoom Stadium, located about a 15-minute walk southeast of Hiroshima Station, has been the Carp's home since 2009. On game days, directions to the stadium are practically unnecessary; one needs only to follow the sea of red-clad fans. Mazda Zoom-Zoom Stadium was built to replace the former Municipal Stadium, and while a thoroughly modern facility, its architecture is charmingly retro-styled. During the league season (March–October), as many as six games are played here each week.

Information
MAZDA Zoom-Zoom Stadium Hiroshima
Address

1-3-1 Minami Kaniya, Minami-ku, Hiroshima City

Access

Walking: It's about 10-minute walk from the Hiroshima Station South Exit.

MAP

Tap the name of the facility on Google Map and tap "View on Google Maps" to launch the application.
---